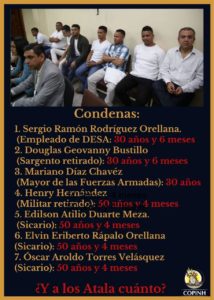 In response to the reading of the sentences from the first trial against the material authors of the assassination of our comrade Berta Cáceres, the daughters and son of Berta Cáceres along with COPINH declare the following:
Impunity does not end with the sentencing of the material authors. There is sufficient evidence to prosecute and sanction members of the Atala family and others for the murder of Berta Cáceres.

The Public Ministry led by Óscar Chinchilla must stop making excuses and must bring to trail and prosecute Daniel Atala Midence, José Eduardo Atala Zablah, Pedro Atala Zablah and Jacobo Atala Zablah, among others, for their role in the assassination of Berta Cáceres.

The State of Honduras faces international processes for the participation of public officials and the failure to properly investigate the assassination of Berta Cáceres.

The lack of justice in Honduras necessitates the installation of an independent mission that carries out the trial and prosecution of those responsible for the assassination of Berta Cáceres.

This sentence is the first crack in the wall of total impunity that sustains the criminal structure responsible for the crime. This sentence is a result of the tenacity of the struggle of COPINH, the family and national and world solidarity.
Berta, our sister, will continue to be a symbol of struggle and hope for all the territories that continue today the battle in defense of life and that currently are being persecuted and criminalized by this dictatorship. This sentence is the beginning of a relentless path of justice for the people and for Honduras.
At COPINH we continue with hope defending the blood of the earth, and building to coexist in a just, dignified and life affirming way. We do not falter in our struggle in which Berta lives and lives.
Impunity does not end with a sentence!
Punish the Atalas!
Murderous State!
The sentence was read on the December 2nd, 2019 in the city of Tegucigalpa, Honduras.
Fuente: COPINH